Jorge Soto is a Venezuelan conductor and violinist with an active and diverse career both in North and South America. Currently, he is the Principal Conductor of the New Philharmonia Orchestra, the Principal Guest Conductor of the Massachusetts Symphony Orchestra, and the Music Director of the Sistema Side-by-Side Orchestra at Longy School of Music.
In addition to his regular posts, Mr. Soto has collaborated with several orchestras, most recently the Boston Symphony Orchestra. He has conducted the Boston Symphony Chamber Players on three occasions: in October 2019 for a performance of Stravinsky's Octet at Jordan Hall, at Symphony Hall in December 2020, leading the ensemble in Elena Langer's Five Reflections on Water (filmed and released as part of a January 2021 BSO streaming concert), and in March 2023, conducting Jessie Montgomery's Sgt. McCauley at Symphony Hall. Since 2020-21, Mr. Soto also served as assistant or cover conductor for the BSO on several occasions, including for performances with John Williams and Andris Nelsons. In addition, he assisted Gustavo Dudamel in the preparation of Puccini's Turandot with the Simón Bolívar Symphony Orchestra of Venezuela in December 2015. Also a passionate educator, he has worked with orchestras at Assumption University and Clark University.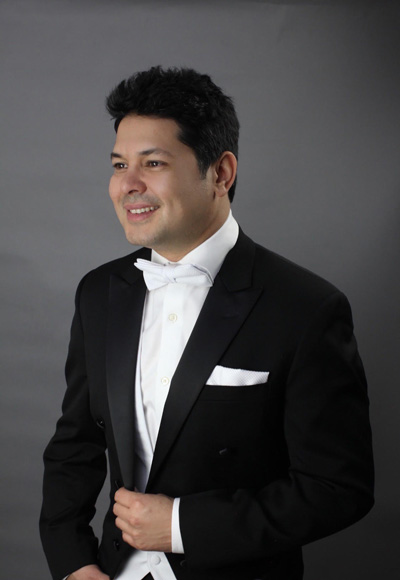 Born in Barquisimeto, Venezuela, Mr. Soto is a product of El Sistema, an innovative program that uses classical music as a vehicle for social change. He began his musical studies in Venezuela at the Vicente Emilio Sojo State Conservatory, later studying violin at the Latin American Academy of Violin under Rhio Sanchez and José Francisco Del Castillo. A founding member of the Simón Bolívar National Symphony Orchestra of Venezuela, he has also performed with the Youth Orchestra of the Americas and the Philharmonic Orchestra of the Americas. He remains very active in El Sistema in Venezuela, where he teaches violin, coaches chamber music, and conducts orchestras around the country, including serving as a guest conductor with the Simón Bolívar Symphony Orchestra.
Mr. Soto graduated with a Master of Music degree in conducting from the New England Conservatory. His conducting teachers and mentors include Harold Farberman, Stephen Tucker, Jani Telaranta, and Charles Peltz. On violin, he has studied with Sophie Vilker, Janne Malmivaara, Peter Sulski, and Timothy Schwarz.